DO YOU HUTONG? Event Summary
CHP Cultural Heritage Day's Special Event: "DO YOU HUTONG?"
June 11 (the second Saturday in June) marked China's 11th Cultural Heritage Day. This year's theme was  "Cultural Heritage & Our Modern Lives". This theme perfectly fit the venue for CHP's Cultural Heritage Day events, "Do You Hutong? Four Hutong Talks": we were lucky enough to hold our lecture in the beautiful architecture of Temple 东景缘.
Our volunteers and attendees loved the elegant blend of traditional and modern styles that Temple 东景缘's Ming Dynasty temple embodies. We are again so grateful to Temple 东景缘 for supporting this event. Further, their efforts to preserve Old Beijing and respectfully preserve the cultural heritage of the temple building were praised by all in attendance.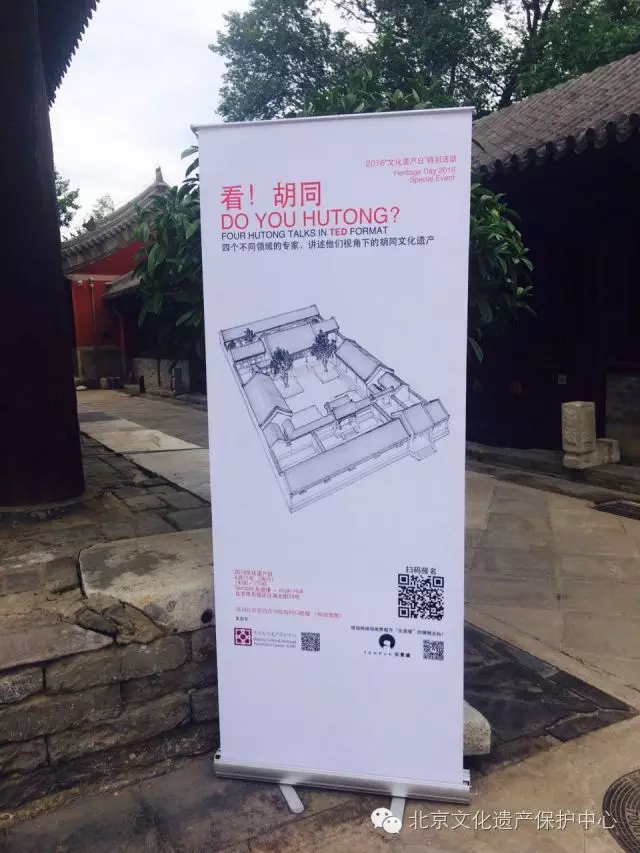 Saturday's event, "DO YOU HUTONG" consisted of three parts:
First, we stationed our volunteers in the area around Temple to talk to the public about Cultural Heritage Day and distribute "I LOVE HUTONG" bumper stickers.
Next, our main event, "DO YOU HUTONG" began in the Main Hall of Temple. Using the TED talk format, four specialists from differing fields introduce their perspectives on protecting the cultural heritage of Beijing's hutongs.
Following, CHP summarized the work we have done on Phase I of "Project Walk the Old City" and acknowledged the volunteers who helped us complete it.
Lastly, we hosted a BBQ dinner for volunteers at the Courtyard Institute. In this relaxed event, both the volunteers and CHP staff were able to talk, share ideas, and mingle in the beautiful summer weather.
"I LOVE HUTONG" Bumper Stickers
The afternoon of Cultural Heritage Day, CHP hutong survey volunteers were stationed at the North Gate of the Forbidden City and Nanluoguxiang. Volunteers handed out  "I LOVE HUTONG" bumper stickers and flyers with information about Cultural Heritage Day and CHP's work.
The goal of this event was not only to promote public awareness for Cultural Heritage Day, but also to encourage the public to take interest in Beijing's heritage and CHP's protection efforts.
Many members of the public expressed strong interest: some put their bumper stickers directly on their bags, some members of the public also signed up to be volunteers; we even had one Taiwanese friend who decided on the spot to join for the afternoon's lectures!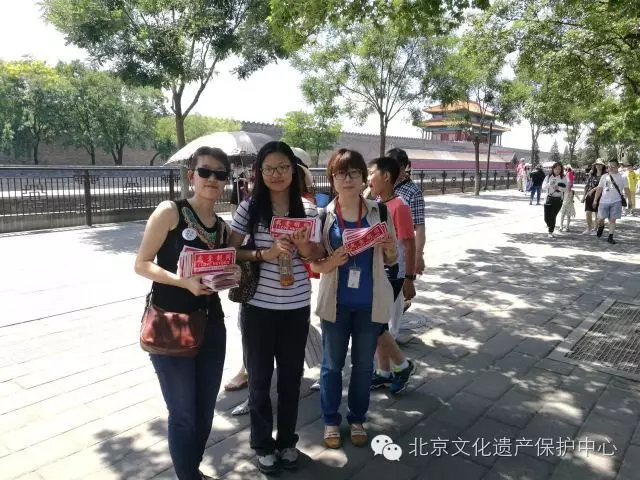 DO YOU HUTONG? Lecture
The main event of Saturday's activities was the "Do You Hutong?" lectures at Temple's Main Hall. Using the TED talk format we invited hutong specialists from four different fields to present to the public their research on Beijing' history.
To start the event, the founder of the Temple Hotel, Juan van Wassenhove, gave the opening remarks. Mr. van Wassenhove spoke on his passion for Old Beijing's cultural heritage and his comprehensive restoration of the Temple compound. Mr. van Wassenhove's great undertaking at the Temple is not only a incredible achievement in traditional restoration, but also beautifully demonstrates how modern functionality can be blended with traditional forms to breathe new life to the heritage structures.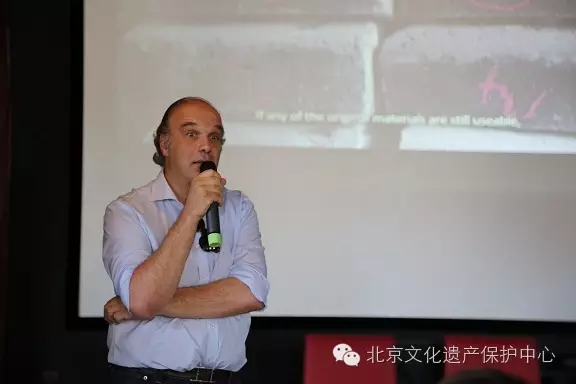 Following Mr. van Wassenhove's remarks, CHP's Head of Board of Directors, Matthew Hu, introduced CHP,  "Project Walk the Old City," and screened the documentary filmed during the renovation of the Temple Hotel.
Our first speaker then took the stage, Li Fei, a photographer from Beijing News.  Mr. Li is a native Beijinger and avid photographer of the city's culture, people and history.
During his time at Beijing News, his photography column "Beijing Geography" 《北京地理》 ran for nearly 10 years with over 700 installments. The subject of his lecture was "The Central Axis of Beijing." He shared selected photographs with the audience, explaining the unique moments he captured and his love for the city of Beijing.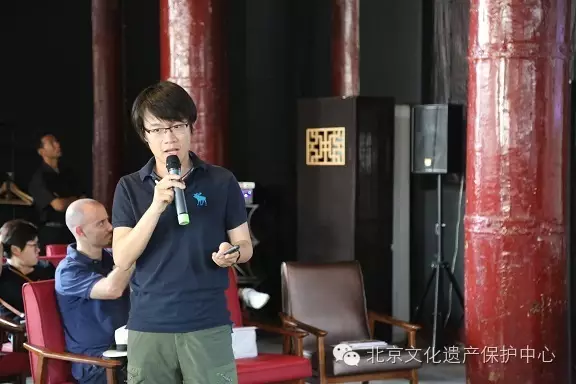 Our second presenter, architect Zhu Qipeng then took the stage. With humor and wit, Mr. Zhu discussed his research into the history of Hong'en Guan (宏恩观) located at the northern part of the Bell Tower at Zhangwang Hutong. Hong'en Guan is hardly Beijing's most famous temple, however it does represent a diverse history: initially a Daoist Temple, after Liberation the site was converted into factories, then in more recent years, the Drum Tower vegetable market and a café.
As an architect, Mr. Zhu was able to observe the various historical styles layered upon the ancient structure. Between 2012 and 2014, he made many visits to the site and conducted close examinations of the grand architecture. Then, he took his findings about each historical period and created 3D projections illustrating the architecture and use over time. Through these visuals the different styles and methods that each generation has left behind are easy to see – forcing the viewer to consider that perhaps the ever-changing nature of the hutongs is in itself a manner of preservation.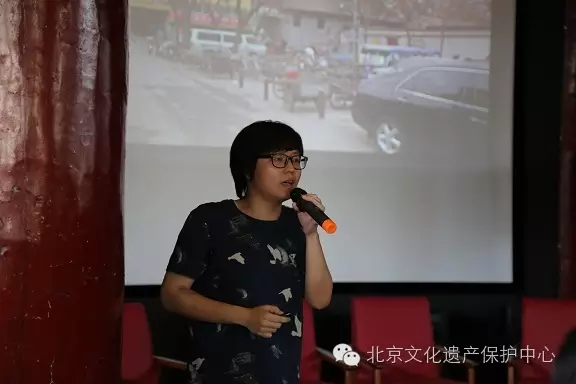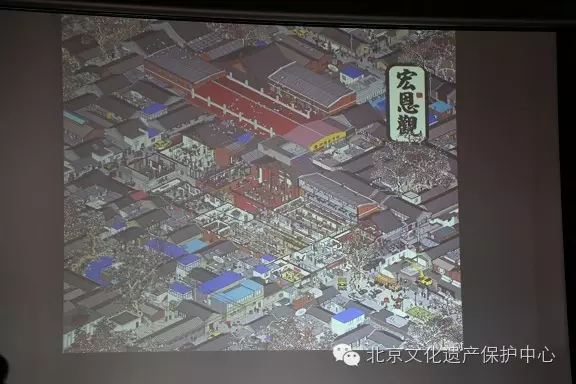 Hailing from Denmark, our next speaker, Lars Ulrik Thom arrived in China in 1996. He fell in love with both Beijing and the hutongs and from this passion created his company, Beijing Postcards, which collects and sells old maps and photographs of Beijing. Beijing Postcards and CHP have worked closely together over time: most recently he has contributed his time and knowledge as a hutong survey volunteer.
Mr. Thom encouraged the audience to clarify what "Old Beijing" truly means. Further, he suggested that we narrow our vision: the last hundred years' history is certainly worth understanding and protecting but the last 10-20 years, have held important changes as well.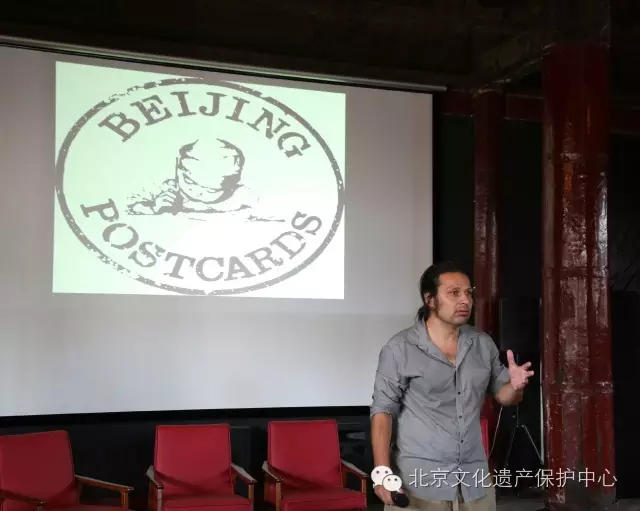 The fourth presenter, Professor Ju Xi comes from Beijing Normal University. Prof. Ju guided us through mid-eighteenth century Beijing. Using the Qianlong map of Beijing, she brought to life an ordinary Beijing neighborhood and shed light on the lives and society of the people living in the hutongs at that time.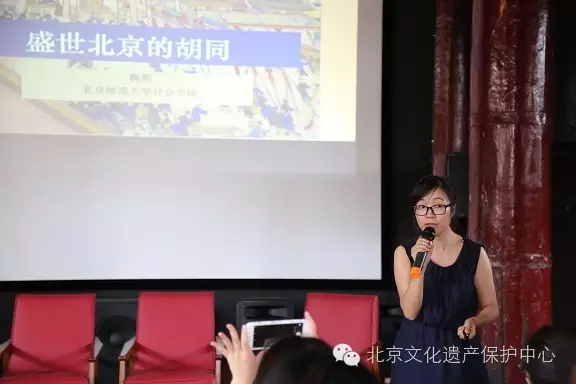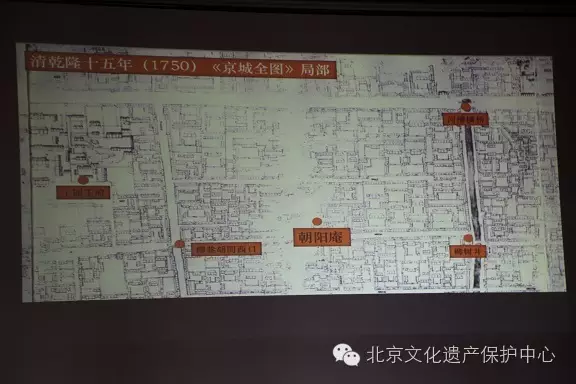 The final part of our event was CHP's report on the first part of our survey's progress. We appreciated the hard work of our 160 volunteers and thanked them to conclude the event.
These four engaging speakers offered perspectives that made us think deeply about the future of the hutongs and offered different viewpoints on the city's history. This knowledge has been invaluable especially as we continue our hutong survey project.
Post-event BBQ
Following the lectures, our speakers and volunteers joined us at Courtyard Institute for an open-air  BBQ.  In the relaxed atmosphere, all who wanted to continue talking about hutong preservation were able to chat and exchange ideas. Night descended on the traditional courtyard, bringing our "Do You Hutong" event and Cultural Heritage Day to an end.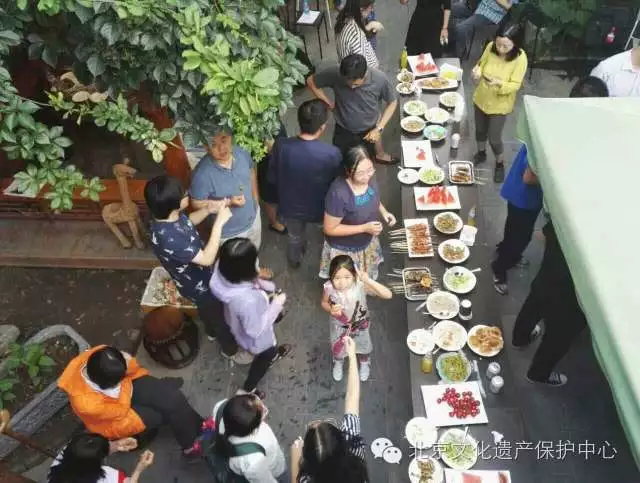 Although Cultural Heritage Day is only one day of the year, we hope our event represents a launching point for continued efforts to preserve heritage in Beijing during the upcoming year.
Special Thanks:
We extend our thanks to the organizations and volunteers that made this event possible.
Temple 东景缘 for generously providing the venue and refreshments
The Courtyard Institute for generously providing
Bumper sticker volunteers: Guo Yuhan, Qin Yun, Xu Qing, Liu Huiting and family, Liu Bingxue, Wang Hongguang, Huai Baohua (photography).
Our event volunteers: Sun Yue, Zhang Yue, Li Wen.
Thanks to all of "Project Walk the Old City" hutong survey volunteers.
Additional thanks to Olivia Holder for translating this piece.