Background Context
: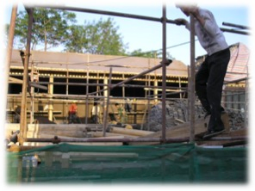 In the alleys of Old Beijing, one could encounter countless bustling scenes of courtyards under reconstruction. This was a part of a government- and developer- supported effort to rebuild and improve publicly-owned traditional courtyards. Several privately-owned courtyards were being repaired under the owner's personal funds in order to raise their residential value. However, since many people had different understandings of the aesthetic and historical value, as well as functional preferences for the courtyards, private and government-funded residences were being reconstructed without a coherent leadership or management system. Furthermore, the constraints of modern materials, craftsmanship and workers' architectural knowledge made it difficult to replicate the original structure. As a result, a portion of the courtyards were not being properly restored, resulting in financial loss for the owners and damage to the traditional appearance of the neighborhood.
Until the launch of the Beijing Traditional Courtyard Renovation Training Project, there was no communication channel where knowledge and expertise of traditional architecture could reach those who were rebuilding their courtyards, leaving homeowners without the technical expertise and models to properly reconstruct their residences. In order to reach out to these homeowners and to ensure that everyone has a chance to appreciate the beauty and history of traditional courtyards, CHP launched Beijing Traditional Courtyard Renovation Training Project in January 2008.
Program Description:
Based on our surveys and research, CHP compiled a Traditional Courtyard Renovation Manual, followed by training sessions. All steps involved the hard work of volunteers, some of whom were architecture and construction experts, and others who were simply interested in protecting traditional structures.
Program Impact:
Beijing Traditional Courtyard Renovation Training Project was able to create the following impact:
1) Cultivated a public understanding that traditional architecture is a core component of Chinese culture. The program informed people by protecting traditional architecture, they are protecting unique lifestyles and a source of Chinese culture.
2) Encouraged citizens to actively participate in and work together with organizations like CHP to strengthen their ability to solve residential problems, untap their potential, and express hope and opinions for a better future.
Our program also ran the following activities:
1) Established a communication channel for architects and other experts in the field to interact with each other while advocating for the appreciation in aesthetics and practicality of traditional architecture.
2) Filmed a documentary about traditional courtyard renovation in order to display the actual process as well as uncover residents' feelings for their homes throughout the process.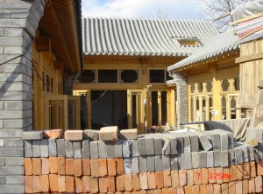 Program Sponsor & Partners:
Special thanks to Germany's Heinrich-Böll-Foundation for their financial support as well as Center for Social Invention, Friends of Nature, Situozhe and other NGOs for their assistance.
CHP Work Team:
CHP Program Director
The Beijing Cultural Heritage Protection Center's Diao Yuning served as Program Director. She was in charge of the management planning and oversaw the work at every stage. Prior to working at CHP, Diao worked for an HIV prevention project at an NGO located in Yunnan for three years where she acquired her project management experience.
Core Volunteer Team: Architects, media, construction experts, and experts from relevant fields formed a consulting team.
Other volunteers were responsible for research.
CHP would like to thank our volunteer translator, Michele Scrimenti, for his outstanding translation of this article.