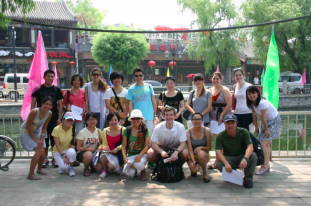 Rotaract Beijing volunteers & CHP staff
Last Saturday, CHP teamed up with Rotaract Beijing in documenting the current presence of hutongs around Houhai area. CHP Managing Director Lu Lei greeted Rotaract volunteers with a brief ice breaker and an introduction on hutong & Shichahai area. With map in their hands, enthusiastic volunteers were spilt up into pairs to take photos of hutongs and record the current condition of the hutong. Rotaract volunteers and CHP staff wrapped up the event in a sunny afternoon with an insightful discussion of the role of tourism in cultural heritage protection.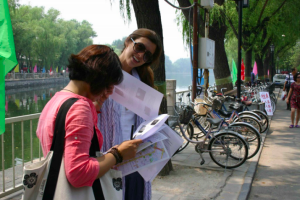 Volunteers reading the photo documenting guidelines

The hutong around Shichahai surveyed were:
Zhanzi Hutong (毡子胡同), Nanguanfang Hutong (南官房胡同), Yindingqiao Hutong (银锭桥胡同), Beiguanfang Hutong (北官房胡同), Xiaojinsi Hutong (小金丝胡同), Qianjing Hutong (前井胡同), Xiaoxiangfeng Hutong (小翔凤胡同), and Dajinsi Hutong (大金丝胡同).
CHP sincerely thanks Rotaract Beijing volunteers and Shichahai Shadow Art Boutique Hotel in making this event possible. We look forward to working with them again this fall!
More event photos available here and here.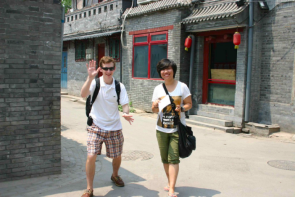 Getting ready to document the alley!